Privacy Notice: We use technologies on our website for personalizing content, advertising, providing social media features, and analyzing our traffic. We also share information about your use of our site with our social media, advertising and analytics partners. By continuing to use this website, you consent to our use of this technology. You can control this through your Privacy Options.
Accept
What's better than seeing the coastal areas of Canada and Alaska? Seeing it by train and ferry to give you the full land-and-sea experience of this amazing region. This 15-day trip takes advantage of both local trains and small ferries to create an authentic – not to mention memorable – journey up the coast and around Alaska. You'll check out the highlights of Seward, Anchorage, and Denali while on the Alaskan Railroad, with plenty of chances to stretch your legs to explore the terrain firsthand. Rail, boat, mountains, cities – who says you can't have it all?
Travel Style:

Rail

Get closer to the big cities, isolated communities, and stunning landscapes of the world's greatest destinations via train-based adventures on iconic rail routes.
Service Level:

Standard

Comfortable tourist-class accommodations with character; mix of public and private transport.
Physical Rating:

2 - Light

Light walking and hiking suitable for most fitness levels. Nothing too challenging.
Trip Type:

Small Group

Small group experience; Max 16, avg 12
Age requirement:

12+

All travellers under age 18 must be accompanied by an adult.
15 days
Vancouver to Anchorage
Sold Out
There are no departure dates currently available for the rest of this season. Some tours only run during parts of the year.
Trip Code: NCVR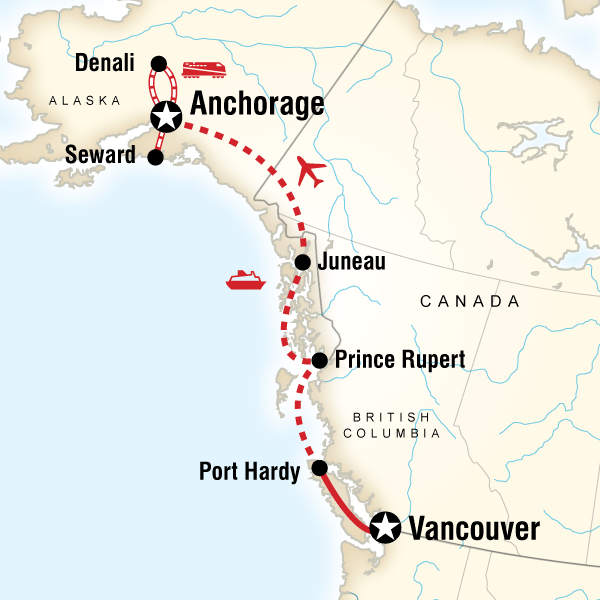 Places visited
Itinerary
Day 2
Vancouver/Port Hardy
Head out to Vancouver Island and up to Nanaimo and Port Hardy.
Day 3
Port Hardy/Prince Rupert
Embark on the ferry through the famous Inside Passage. The glacial fjords provide spectacular scenery along the route and a safe haven for all types of wildlife, including orcas and porpoises. This is fantastic first taste of what travelling this long coastline has in store.
Day 4
Prince Rupert
Enjoy a free day to discover Prince Rupert. With incredible hikes and abundant wildlife, Prince Rupert is a great place to get outside and explore.
Day 5
Prince Rupert/Juneau
Rise early and board the overnight ferry to Juneau, Alaska.
Day 6
Juneau
Arrive in Juneau and spend time exploring the capital of Alaska. Don't miss the historic downtown.
Days 7–8
Juneau
With two free days, opt to check out the local hiking trails and try to spot some wildlife.
Day 9
Juneau/Seward
Fly from Juneau to Anchorage, an impressive flight over the great Alaska wilds. Continue to Seward with a scenic transfer, stopping at iconic spots along the way.
Day 10
Seward
Enjoy a free day in Seward. Choose to hike to the Exit Glacier and visit the Sealife Center, or opt to stay closer to Seward and explore the city, take a short hike, or enjoy a boat cruise.
Day 11
Seward/Anchorage
Hop on the Alaska Railroad and head to the bustling city (by Alaska standards, anyway) of Anchorage.
Day 12
Anchorage/Denali
Take the Alaska Railroad to Denali National Park, one of the true gems of the region. See Mt McKinley and enjoy being in this remote wilderness.
Day 13
Denali National Park and Preserve
Journey deeper into the park to experience the grandeur. Opt for a scenic flight, hiking, or whitewater rafting.
Day 14
Denali/Anchorage
Head back to Anchorage by train for a final night in the city.
View full itinerary
What's Included
Your Welcome Moment:

Meet Your CEO and Group
Vancouver Island stay
Inside Passage cruise
Juneau stay
Kenai Peninsula activities
Alaska Railroad journeys
Denali National Park overnight
All park fees and permits
Internal flight
Transport to/from destinations and included activities
Accommodations
Hotels (13 nts), ferry (1 nt)
Meals
No meals included
Allow USD940-1225 for meals not included.
Transportation
Train, private vehicle, ferry, public bus, plane, walking
Staff & experts
Chief Experience Officer (CEO) throughout, local guides.
Departures
There are no departure dates currently available for the rest of this season. Some tours only run during parts of the year.
Please Contact Us to inquire about dates for next season, or to discuss other tour options.