More from Galápagos — South & East Islands aboard the Monserrat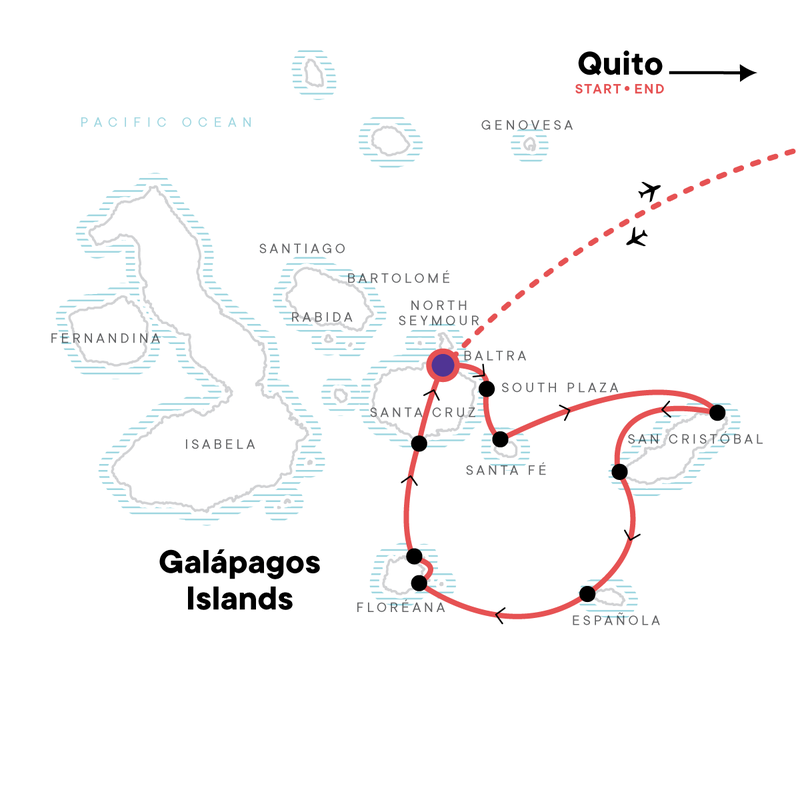 Places visited
Itinerary
Day 2
Quito/Baltra Island
Early flight to Baltra. Meet the guide and transfer to the ship which is moored nearby, just off the island of Baltra. Afternoon excursion to the highlands of Santa Cruz to see giant tortoises in their natural habitat.
Meals included:
Breakfast | Lunch | Dinner
Day 3
Islas Plaza/Santa Fé Island
Land at South Plaza in the morning for wildlife spotting opportunities and a walk through the cactus forest. In the afternoon, take a guided walk around Santa Fé to observe wildlife and plentiful marine iguanas.
Meals included:
Breakfast | Lunch | Dinner
Day 4
Punta Pitt/Puerto Baquerizo Moreno
Morning landing at Punta Pitt on San Cristóbal Island to observe the marine iguanas and seabirds along the beach. Head to La Galapaguera for opportunities to see giant tortoises and enjoy a snorkelling excursion.
Meals included:
Breakfast | Lunch | Dinner
Day 5
Puerto Baquerizo Moreno
Explore the the port town of Puerto Baquerizo, the capital of the Galápagos. Visit the San Cristóbal Interpretation Centre and take a walk through Cerro Tijeretas looking for wildlife and go snorkelling. In the afternoon, visit Isla Lobos and be greeted by sea lions frolicking in the waves.
Meals included:
Breakfast | Lunch | Dinner
Day 6
Cerro Brujo
Starting on the north coast of San Cristóbal, land at Cerro Brujo to observe the sea lions, marine iguanas, and seabirds along the beach. Spend the afternoon visiting the tortoise breeding area in the highlands rich with endemic flora.

Meals included:
Breakfast | Lunch | Dinner
Day 7
Bahía Gardner/Punta Suárez
Enjoy the day on Española Island, one of the oldest in the archipelago. Visit the white sandy beach of Gardner's Bay and the bird colonies of Punta Suárez.
Meals included:
Breakfast | Lunch | Dinner
Day 8
Punta Cormorant/Floreana Island
Land at Punta Cormorant on Floreana. Guided walks to observe the birds and wildlife, and learn about the natural history. Snorkelling excursion at Champion Islet. Visit Post Office Bay.
Meals included:
Breakfast | Lunch | Dinner
Day 9
Puerto Ayora/Quito
Disembark in Puerto Ayora and visit the Charles Darwin Research Station to see the giant Galápagos tortoises. Fly back to Quito.
Meals included:
Breakfast
Day 10
Quito
Meals included:
Breakfast
View full itinerary
What's Included
Your Welcome Moment:

Meet Your CEO and Group
Cruise the Galápagos Islands aboard the Monserrat (7 nts)
2 Certified Galápagos National Park Service guide
All meals aboard the Monserrat
Highlands giant tortoises excursion
Sante Fé hiking excursion
Snorkelling at Sante Fé, Punta Pitt, Isla Lobos, Gardner and Champion Islets
Interpretation Centre Visit (San Cristóbal)
Jacinto Gordillo Breeding Center
Post Office Bay Visit
Charles Darwin Research Station Visit
All landings and excursions
Snorkelling equipment and wetsuits
Internal flights
All transport between destinations and to/from included activities
Accommodations
Hotel (2 nts), aboard the Monserrat in twin-share or double cabins (7 nts).
Meals
9 breakfasts, 7 lunches, 7 dinners
Allow USD80-105 for meals not included. Drinks and tips on board not included.
Transportation
Plane, motorized yacht, panga, private vehicle.
Staff & experts
2 CEO (Chief Experience Officers)/Naturalist Guides while in the Galápagos Islands (certified by the Galápagos National Park Authority), local G Adventures Rep in Quito.
Departures
There are no departure dates currently available for the rest of this season. Some tours only run during parts of the year.
Please Contact Us to inquire about dates for next season, or to discuss other tour options.