More from Canadian Rockies: National Parks Westbound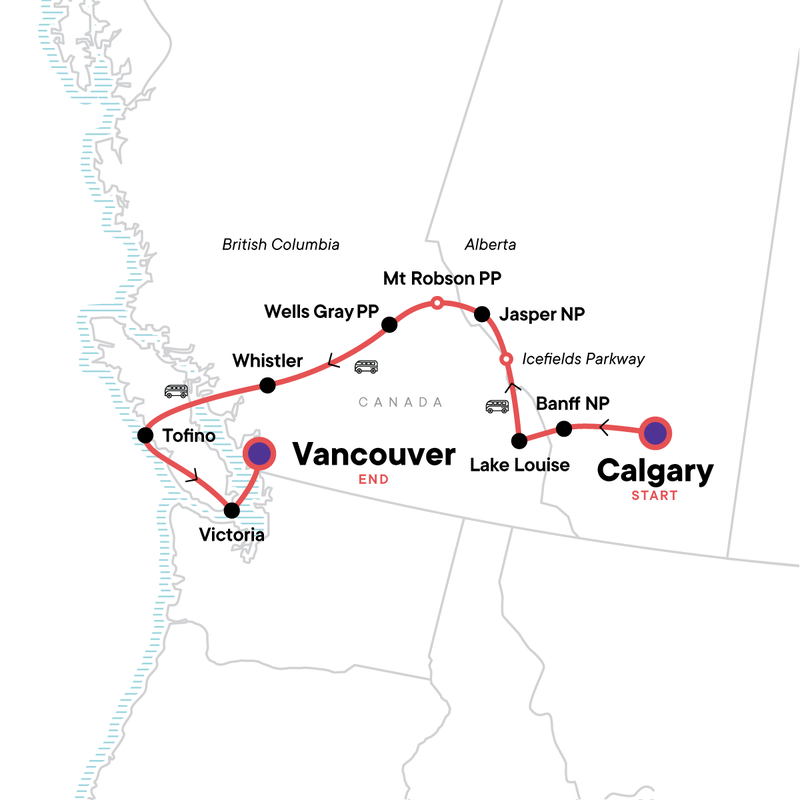 Places visited
Itinerary
Day 1
Calgary
Arrive at any time.
What better way to kick off your travels than by getting to know your CEO and group over a few drinks? Hit up one of the local pubs in downtown Calgary where you'll enjoy live music, great entertainment, local ales, and some pretty tasty grub. So grab a beer, sit on the patio or at the bar, admire this mountain town, and swap travel stories with your group as the night unfolds.
Day 2
Calgary/Banff
As the day begins spend some of your time discovering the quiet beauty of Banff, a resort town located within Banff National Park. Take some pictures of the wildlife, stroll the shop-lined streets, or hike up a mountain for some spectacular views of the town below. Finish the day off with a dip into a natural hot spring or treat yourself to some pampering at one of the many spas in town.
Meals included:
Lunch
Day 3
Banff/Lake Louise
Grab a fellow tour mates' hand and gaze in wonder at the beauty of Lake Louise. Hike with a group to the Agnes Lake Tea House, or lose your sense of time along the Plain of Six Glaciers Trail. In the afternoon you will head back into good ole' Banff where you can do all of the things you didn't have time for yesterday!
Meals included:
Breakfast | Lunch | Dinner
Day 4
Lake Louise
You'll be skipping with joy into the beauty that is Yoho NP. Visit Emerald Lake, whose vibrant waters rival those of famed Lake Louise and Takkakaw Falls – the second highest waterfall in Canada. Opt to go whitewater rafting in the afternoon along the Kicking Horse River. Skip the crowds, sip a cold beer by the aquamarine waters, and simply enjoy the untamed beauty of this lesser-known Canadian park.
Meals included:
Breakfast | Lunch | Dinner
Day 5
Lake Louise/Jasper
Make your way to stunning Jasper via the Icefield Parkway. The beauty is so spectacular you may find yourself holding your breath as you drive one of the most scenic mountain landscapes on Earth. The parkway offers an unforgettable journey through a vast wilderness of magnificent peaks, pristine mountain lakes, and broad sweeping valleys. Along the way you will stop at Bow Lake and the Columbia Icefield Centre, where you can choose to walk with an expert guide atop the still active Athabasca Glacier. Tonight, kick back and relax near a campfire in Jasper.
Meals included:
Breakfast | Lunch | Dinner
Day 6
Jasper
Wake up in the alpine town of Jasper amid snow-capped mountains and glacier lakes. Stroll through Maligne Canyon, the deepest gorge in the Canadian Rockies. The trail is an easy loop that is full of waterfalls, bridges, dense pine forests, and streams that seem to pop out of nowhere. Take the rest of the morning to explore Jasper NP. Rent a canoe and get out on Maligne Lake with your friends, seek some thrills whitewater rafting on the Athabasca River, or simply take it all in. Then spend the afternoon losing yourself in the lively mountain town.
Meals included:
Breakfast | Lunch | Dinner
Day 7
Jasper/Wells Gray Park
Get an early start today as you and the group head further west towards British Columbia. Pass the majestic peak of Mount Robson, the tallest mountain in the Canadian Rockies. Stop at the visitor centre and grab your next "Insta" photo on the large viewing deck before jumping back in the van to continue on to Wells Gray PP.
Meals included:
Breakfast | Lunch | Dinner
Day 8
Wells Gray Park
Head out for an exciting adventure canoeing in the Canadian wilderness. Take this time to laugh and be silly with your friends or paddle off to quieter coves for some peace and reflection. After a lunch on the shore overlooking Clearwater Lake you will stop at some of the most fascinating waterfalls in the park, including Helmcken Falls — world famous for being three times taller than Niagara Falls.
Meals included:
Breakfast | Lunch | Dinner
Day 9
Wells Gray Park/Whistler
Today is a travel day, but never fear you'll have no time to be bored. There will be plenty of opportunities for conversation, reflection, and taking photos as you drive from the densely wooded forests of Wells Gray PP through the Canadian desert and into the coastal mountains of BC. Remember, it's often the longer days that create the best bonding experiences for you and your new mates.
Meals included:
Breakfast | Lunch | Dinner
Day 10
Whistler
Good morning from one of Canada's greatest natural playgrounds. Right when you thought you couldn't fall more in love with Canada you most certainly will. The scenery here is almost dreamlike and one of the best ways to immerse yourself in it all is with a morning hike. Take in a waterfall, witness incredible views of Daisy Lake, or try your hand at other outdoor adventures like ziplining, rafting, or mountain biking. In the afternoon explore more of Whistler, grab some food, play some frisbee, or just sit and talk outside.
Meals included:
Breakfast | Lunch
Day 11
Whistler/Tofino
The outdoor adventures are far from over. Take a ferry across to Vancouver Island and dance beneath ancient Douglas firs. You'll arrive in time to witness a gorgeous west coast sunset. In the morning take a short drive to the ferry terminal before embarking to Nanaimo, also on Vancouver Island. Continue driving to Tofino on the far west of the island and experience stunning scenery, wildlife, and some pretty awesome photo ops along the way.
Meals included:
Breakfast | Dinner
Day 12
Tofino
Get up close and personal with mother nature today on a half-day whale watching tour by Zodiac. Make a bet with your group and see who can spot the most orcas and other wildlife off of Tofino's coast. In the afternoon soak in views of this rugged and untamed landscape and spend time exploring endless stretches of beach. From hikes through rainforests to catching waves out in the Pacific Ocean Tofino is an outdoor adventurers' paradise. Whatever you decide the time is yours just make sure to grab your fill of this unique surfer town before it's time to move further south.
Meals included:
Breakfast | Lunch | Dinner
Day 13
Tofino/Victoria
It's off to Victoria today! Breathe in the lush smell of old growth forests and daydream as the island scenery passes you by. Stop at the Old Country Market in Coombs where you can buy souvenirs, grab a bite to eat, or simply sit and watch goats amble by on the roof above. Arrive in Victoria just in time to watch the sunset over the water. Then take the rest of the evening to relax in the city or hangout with your group and tell stories because there's no doubt you have some by now!
Meals included:
Breakfast | Lunch
Day 14
Victoria/Vancouver
Hop on a ferry back to the mainland. The trip ends upon arrival in Vancouver, but we recommend taking some time to discover this beautiful, moody, and invigorating city before you head home. Visit top sights like Stanley Park, Gastown, and the Vancouver Lookout as the day carries on. Not ready to say good-bye yet? Book some additional post-trip accommodation nights to keep your adventure going... because let's face it, taking one more day off is always worth it before heading back to reality.
Meals included:
Breakfast
View full itinerary
What's Included
Your Welcome Moment:

Meet Your CEO and Group

Your First Night Out Moment:

Connect With New Friends

Your Discover Moment:

Banff

Your Big Night Out Moment:

Wells Gray Park
Entrance fees to all national and provincial parks with walking and hiking excursions
Stop at Columbia Icefield
Half-day canoeing excursion in Wells Gray PP
Half-day whale watching tour by Zodiac
Self-inflating mattresses and dome tents while camping
All transport between destinations and to/from included activities
Accommodations
Hotel (1 nt), participation camping (12 nts)
Meals
12 breakfasts, 11 lunches, 9 dinners
Allow USD155-205 for meals not included.
Transportation
Air-conditioned private vehicle, hiking, ferry, canoe, Zodiac
Staff & experts
CEO (Chief Experience Officer) throughout