More from Australia South to North–Melbourne to Darwin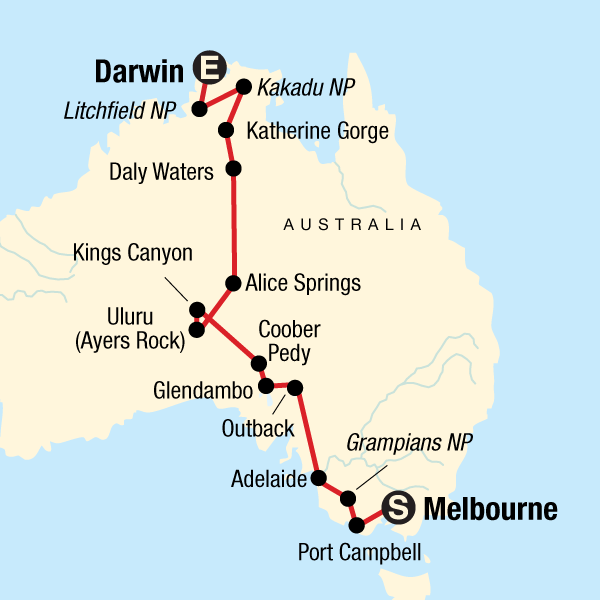 Places visited
Itinerary
Day 1
Melbourne
Arrive at any time.
Tonight, get to know Melbourne as a group. Spend some time socializing in the rooftop seating area at the Space Hostel where you are staying. Then maybe head to the bar attached to the hostel called Blue Moon Karaoke for some great beer and cheap eats. Make sure you get those vocals ready because someone is getting up and singing before the night is over.
Day 2
Melbourne/Port Campbell
Say hello to the Great Ocean Road — arguably the most iconic road in all of Australia! You won't even mind waking up early for views like the ones you'll see as you drive to Port Campbell. Travel up the famous surf coast visiting quaint towns like Lorne and Apollo Bay en route. Get in touch with nature on an included rainforest walk in Great Otway NP.
Then gaze in wonder and feel the wind whip through your hair as you admire the 12 Apostles, the kind of landmark that somehow finds a way to be more stunning in person than in photos.
Meals included:
Breakfast
Day 3
Port Campbell/Halls Gap
Open your eyes in the laid-back coastal town of Port Campbell and lace up those hiking boots for a visit to the Tower Hill Wildlife Reservation. Walk through the verdant landscape and be on the lookout for the wildlife that has multiplied on the inside of this volcanic crater. Trek through the forest with those cameras at the ready before continuing on to Grampians National Park for your next adventure!
Meals included:
Breakfast
Day 4
Halls Gap/Adelaide
Skip sleeping in this morning to get out and about in Grampians National Park. Wander through lush forest, view the craggy sandstone Wonderland range in the distance, and examine impressive Indigenous rock art. Home to some pretty amazing scenic lookouts this national park will grant you with many photo opportunities so make sure those cameras are charged before heading into the thick of it all. Walk to the stunning Balconies for expansive views of the Victoria Valley below, then stop at one of the largest waterfalls in Victoria; Mackenzie Falls and watch the water cascading down cliff faces as it creates rainbows in the air. Close your eyes, breathe in the fresh air, and find peace in the moment. As the day winds down head to Adelaide with the group and find some nightlife to enjoy as the stars fill the sky.
Meals included:
Breakfast
Day 5
Adelaide
Get ready to stuff your face in the food and wine capital of Australia; Adelaide. Wander the clean laneways and sample your way from place to place as the sun warms your skin. With an emerging art scene, natural beauty, interesting attractions, and incredible restaurants, Adelaide has tons to see and do. Get out and discover the hub of South Australia!
Day 6
Adelaide/Ikara-Flinders Ranges
Enjoy a local food experience in the Clare Valley, then it's on to Flinders Ranges.
Meals included:
Breakfast
Day 7
Ikara-Flinders Ranges
Explore Wilpena Pound, the heart of Flinders Ranges National Park, for a walk to a natural amphitheatre sacred to the Indigenous Adnyamathana people. Learn about Indigenous art and early settler history.
Meals included:
Breakfast | Lunch | Dinner
Day 8
Ikara-Flinders Ranges/Glendambo
Travel from Flinders Ranges to Glendambo with a stop along the way at the salt lake of Lake Hart.
Meals included:
Breakfast | Lunch | Dinner
Day 9
Glendambo/Coober Pedy
Travel to the town of Coober Pedy, the world's opal mining capital. After a guided tour of a mine, escape the heat like the locals by spending the night underground.
Meals included:
Breakfast
Day 10
Coober Pedy/Kings Creek
Take in the vastness of the Outback on a driving day, then bed down in a swag (padded canvas bedroll) around a campfire and sleep under the Outback sky.
Meals included:
Breakfast | Dinner
Day 11
Kings Creek/Uluru
Enjoy a morning walk through the gorges and valleys of Kings Canyon. Drive to Uluru, where Australia's most iconic view awaits. Experience the colourful sunset at Uluru while enjoying a glass of bubbly.
Meals included:
Breakfast | Lunch
Day 12
Uluru
Enjoy the Mala Walk at Uluru to learn the importance of the rock to Indigenous Australians.
Meals included:
Breakfast | Lunch | Dinner
Day 13
Uluru/Alice Springs
Discover more of the Red Centre with a hike through the beautiful Valley of the Winds in Kata Tjuta, then transfer to Alice Springs.
Meals included:
Breakfast
Day 14
Alice Springs
Spend your free day journeying through the heart of Australia. Simply enjoy the delights of this Outback town from quirky bars to lively cafes, and restaurants with stunning views; there's plenty to choose from.
Day 15
Alice Springs/Daly Waters
Take in the vastness of the Northern Territory and travel north via the Devils Marbles - giant red granite boulders that are a sacred site to the Indigenous people in the area. Finish the day at Daly Waters and grab a drink at the local Outback pub teeming with character.
Meals included:
Lunch
Day 16
Daly Waters/Katherine
Continue north, stopping for a visit at the Mataranka Hot Springs before setting up camp in Katherine. Opt to walk the stunning Katherine Gorge or get adventurous with a helicopter flight over the gorge taking in the stunning scenery.
Meals included:
Breakfast | Dinner
Day 17
Katherine/Kakadu National Park
Continue north, stopping at Edith Falls. Explore the waterfalls, swimming holes and trails of Kakadu National Park—a UNESCO World Heritage Site.
Meals included:
Breakfast | Lunch | Dinner
Day 18
Kakadu National Park/Litchfield National Park
Continue exploring Kakadu NP, stopping off at sacred rock art galleries. Head towards Litchfield National Park, stopping for a nature cruise to try and spot crocs.
Meals included:
Breakfast | Lunch
Day 19
Litchfield National Park/Darwin
Tour Litchfield NP to encounter streams, rock formations and the impressive termite mounds. Tour ends in Darwin upon arrival in the evening.
Meals included:
Breakfast | Lunch
View full itinerary
What's Included
Accommodations
Hostels (10 nts), swag camping (7 nts), underground hostel (1 nt). All nights multi-share.
Meals
15 breakfasts, 8 lunches, 6 dinners
Allow USD345-450 for meals not included.
Transportation
Private vehicle, boat, walking.
Staff & experts
CEO (Chief Experience Officer) throughout, local guides.
Departures
There are no departure dates currently available for the rest of this season. Some tours only run during parts of the year.
Please Contact Us to inquire about dates for next season, or to discuss other tour options.