blog home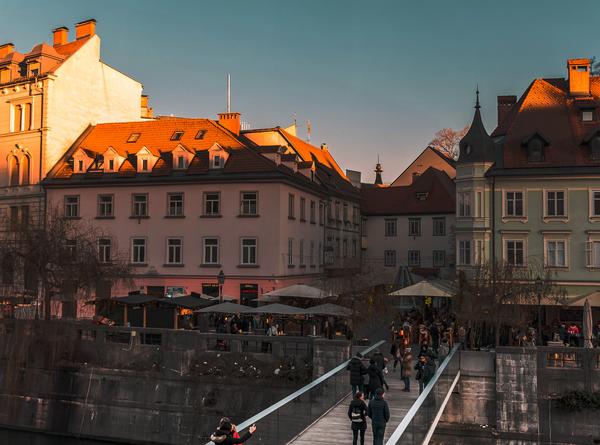 What to see and do in Ljubljana's Old Town
Cobblestone streets! Dragon bridges! Puppet shows! There's no shortage of old-world charm and medieval sights in Slovenia's capital.
Posted on 17 February 2021
Ljubljana is not your typical European city. The Slovenian city is a maze of cobblestone streets, medieval fortifications and colourful 19th-century buildings that have become a trademark of the Austro-Hungarian Empire. In the city center, known as the Old Town, the city has the perfect mix of medieval history mixed with modern flair. Here are eight must-see spots in Ljubljana's most fabled neighbourhood, from public art to puppet history and a bit of Greek mythology.
Locksmith Street
Facing the Ljubljanica river, this tiny alleyway is filled with a series of more than 700 bronze faces that have been plastered into a small laneway of this narrow alleyway, which is called Ključavničarska ulica. From grotesque to cute faces, as well as skeletal figures, the faces were created by local sculptor Jakov Brdar, who was inspired to make the faces after reading a poem by Rainer Maria Rilke, who wrote: "To think, for instance, that I have never been aware before how many faces there are. There are quantities of human beings, but there are many more faces, for each person has several."
Hercules Fountain
Set on the historic street of Stari trg, this monument is a must-see in the Old Town, as it's at the heart of some of the city's most charming restaurants, cafes and boutiques. The top of this fountain is crowned with a statue honouring the Greek god Hercules, fighting with a lion. It's a copy of an old Baroque work, reconstructed by architect Marko Mušič.
Central Market
At the heart of the Old town, this historic market is draped in canvas-covered food stalls selling fresh produce from local farms, set in the heart of two of the city's main squares; Vodnikov trg and the Pogačarnev trg. Don't miss the Open Kitchen, which runs from spring to fall, where Slovenian restaurants feature prepared local dishes on the spot.
Dragon Bridge
As the main arch bridge in the city, it's known as a relic of Art Nouveau architecture, built in 1900, and for being crowned with enormous, fire-breathing dragons on each of its pedestals. From the other side of the river, it's the fastest way to the Old Town's Vodnik Square.
City Gallery Ljubljana
Set in the city center, this gallery is a central hub of the local art and design scene. Behind its glass facade, two floors boast exhibitions centered around urbanism in the Balkans and Europe, contemporary art, as well as exhibits by internationally-acclaimed artists like Ulay, Josef Albers and Bridget Riley. The building is, in fact, old. Built in the 16th century, this building on Mestni trg was taken over by art lovers in the 19th century, which led it to becoming a commercial trade building before it was converted into an art space by the Institute for the Organization of Old Ljubljana.
Ljubljana Puppet Theatre
It's the prime spot to catch a work of local theatre in the city's most bustling area. From children's plays to adult-friendly fairytales and local talents at annual festivals, pieces like the Snow Queen to the Seven Ravens are performed here with handmade wooden and ceramic puppets. Bonus: Many of the performances are non-verbal, so no matter what language you understand, the plot will be understood.
The Museum of Puppetry is also onsite here, offering a look at the past 70 years of puppetry in Slovenia. From the museum, take a funicular ride up to the castle.
Ljubljana Castle
Just like a fairytale, this city has a medieval fortress at the top of a hill overlooking the city. The castle can be visited by foot or by funicular train, which transports visitors from top to bottom. The castle features a sprawling exhibition detailing Slovenian history throughout 4,500 years of settlement, boasting bronze sculptures, ancient scrolls and cave paintings. There's also tours of the penitentiary, a walk through the underground dungeon where prisoners were once held. Don't miss the handblown crystal dripstones, which are inspired by caves.
The Skyscraper
Just steps away from the Old Town, this building is not in fact a glass-clad tower you'd find in the middle of Manhattan. Rather, it's an old building with stunning rooftop views, built in 1933 by Slovenian architect, Vladimir Šubic. The 70-metre high building was once one of the tallest buildings in the Balkans, and today is filled with boutiques, offices, apartments and a rooftop nightclub and cafe, which offers stunning views of the city.
---
Getting there
Want to check out the sights of Ljubljana for yourself? G Adventures can get you there. Check out our Rome to Berlin: Piazzas, Pilsners & the Past or Rome to Budapest: Canals & Capitals tours or even our Sailing Croatia, Slovenia, and Italy adventure.
Delete post?
Are you sure you want to delete this blog post? This cannot be undone.
Note: If you only want to remove this post from public view, you can choose to unpublish it instead.