blog home
The Galápagos Islands, at the click of a button
Just because we aren't travelling right now, doesn't mean we can't experience our big, beautiful world. Join one of our guides for a virtual walking tour of the Galápagos Islands.
The entire world is doing its best to stay safe at home, so we decided to bring the world to you. Explore famous locations across our planet on a guided virtual walking tour, led by one of our CEOs (Chief Experience Officers).
Next stop: the Galápagos Islands!!
Join Omar, a G Adventures CEO and native of the Galápagos, as he takes you on a virtual tour around nature's greatest science laboratory. Come along to learn about the islands' history and culture, their dazzling array of wildlife, local highlights, and more. Read on to learn a little about Omar before kicking off your tour by clicking the video below.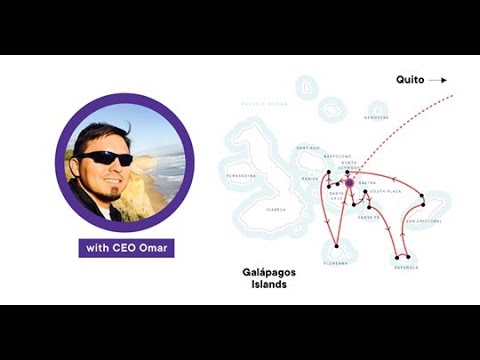 What's your name, your hometown, and where do you lead tours?
Omar: My name is Omar Medina and I'm from the Galápagos, Ecuador! I lead tours in the Galápagos Islands and the National Park How long have you been a CEO for G Adventures?
Omar: I've been a Naturalist Guide for 11 years, and CEO for six years.
What is the one must-try local dish or drink?
Omar: Galapagos has a big mix of cultures, so the cuisine varies a lot. That being said, the highlight is the seafood. Mixed ceviche is my favourite, served with patacones (fried smashed plantain), popcorn, and a mandatory Endemic beer (from a local brewery).
Tell us one "secret," not-to-be-missed spot on your tour, and why it's so special.
Omar: Every island in the Galapagos is so different and special. Landscapes, fauna and flora, human and natural history makes each walk a once-in-a-lifetime experience. But the one I really enjoy and that can't be missed is the snorkeling. Being underwater and seeing the feet of the blue-footed boobies, giant tortoises, all the colourful fish, sea turtles, sharks, marine iguanas — it's a completely different world down there. I never get tired of playing with sea lion puppies either, it's so much fun.
After travelling with you, what three words would you want your travellers to use to describe your city/region/country?
Omar: Happiness, conservation, and the one I use all the time in my lectures: adaptation.
What books/novels would you recommend to travellers who want to escape to your city/region/country via literature?
Omar: One I can recommend is the "The Galapagos Affair'' by John Treherne. It tells a fanciful story that takes place on Floreana Island. Nudism, affairs, dentures, mystery and murders take place between three families who came from Germany in the 1930s.
On the other hand, if you want to learn about the wildlife before you come, "Wildlife of the Galapagos" by Julian & Daniel Fitter and David Hosking. Or "The Beak of the Finch" by Jonathan Weiner; Biologist Peter and Rosemary Grant, where a couple spends more than 40 years studying Darwin Finches on a small islet called Daphne Major, proving that natural selection sometimes takes place rapidly in extreme situations.
What is YOUR favourite place to travel to (not including your region)?
Omar: This is the hardest question. I've been very lucky to be in so many different countries travelling with G Adventures and each place is so unique, plus the people, culture, CEOs, fauna and flora landscapes, sunsets — it all made my experience so amazing. But if I have to choose, I'd say Antarctica, mostly because of the wildlife, and because it's a dream I've had since I was a child.
Thanks, Omar!
The G Adventures' virtual walking tours series features a new destination each week, led by one of our expert CEOs. Using Google Maps and photos, CEOs will "walk" viewers around their location, sharing insider secrets, history and travel tips. Stay tuned for our upcoming walks!
Remember: stay home, stay kind, stay connected.
Delete post?
Are you sure you want to delete this blog post? This cannot be undone.
Note: If you only want to remove this post from public view, you can choose to unpublish it instead.